Custom Food Truck wraps 
that stand out from the competition
that get mouths watering.

Our Catering Van Wraps will Attract Attention and Increase Your Turnover
Contemplating a high-visibility, cost-effective campaign that will get your brand noticed 24/7?
It's well known that we eat with our eyes first. High end restaurants spend hours poring over menus to ensure they not only taste incredible but have the looks to match. That's why a professionally designed bespoke catering van wrap is essential if you're going to attract the customers you need to succeed.
Professional presentation is important in every sector, but in none is it more important than in the food industry. Customers are attracted to clean, sleek vendors, and easily put off by tired, tatty looking vehicles. Lead the pack and boast the longest queues at every event with a professionally designed vinyl wrap from 3SixtyWraps.
The benefits of custom catering van wraps
At any event, your vehicle will be one of many in a long line of contenders, jostling for the attention of a wide array of potential customers. Eye-catching signage and richly detailed, brightly coloured imagery will ensure you get noticed.
As well as generating custom on-site, a catering van wrap will increase brand awareness and get your name out there, turning your vehicle into a highly visible mobile billboard, whether you're cruising down the motorway, stuck in inner-city traffic or parked on a driveway overnight.
We at 3SixtyWraps are specialists in commercial vehicle livery. We have supplied wraps to hundreds of happy customers over the years, from full colour wraps covering every inch of bodywork on professional fleets to smaller designs on single vehicles. Whatever your mobile retail wrap needs, from a single food truck for a sole trader to a fleet destined to cover tens of thousands of miles across the world, our team of Designers and 3M Authorised Vehicle Wrappers will tailor bespoke solutions to suit you.
We use only tried and tested, quality materials to ensure maintenance, replacement and removal are hassle-free.
With our food van wraps you can keep your vehicle's paintwork looking pristine, replace and update campaign design, branding and contact details or even install temporary wraps for special events that can be easily removed once they are no longer needed. Be it a trailer, truck, mobile bar or van, contact us today to see how we can transform your mobile retail unit into a work of advertising art.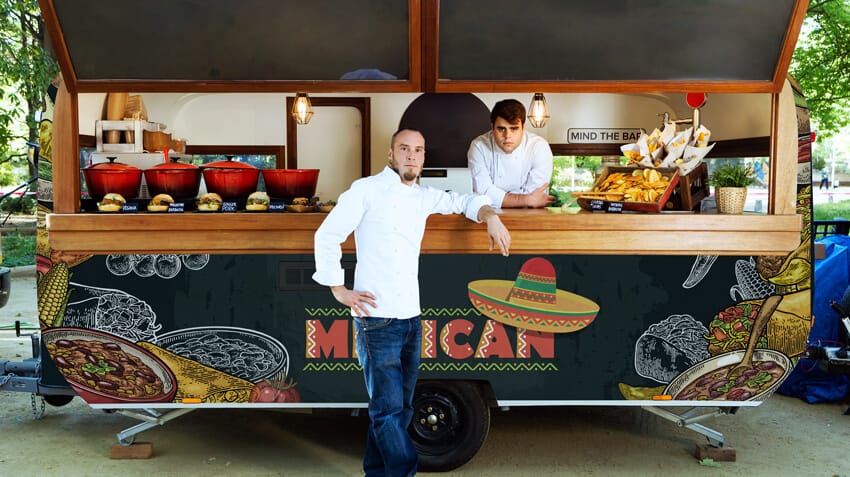 End-to-end service
We believe in a dedicated, end-to-end approach to customer service. That means our team will be on hand from the very first consultation meeting, right through to completion and beyond.
From complex designs to simple signage, our Designers will work with you to provide the perfect graphics for your catering van or food trailer. We will also provide a detailed design visual, or 'mock-up', so you can see exactly how the finished installation will look at no extra cost.
We then produce the wrap on the highest quality materials using industry-leading printing technology. It will then be carefully installed by our team of 3M Authorised Vehicle Wrappers, who have many years of experience wrapping everything from commercial vehicles to race cars.
A professionally installed wrap guarantees a perfectly smooth, blemish free application that perfectly fits every curve of your food van, giving a professional finish that accurately reflects the quality and professionalism of your catering.
Peace of mind comes as standard. All of our installation work is subject to a 12-month warranty on a return-to-base basis and 3M's printed wraps and colour changes are subject to a five-year warranty. For more information on this, see our Terms and Conditions.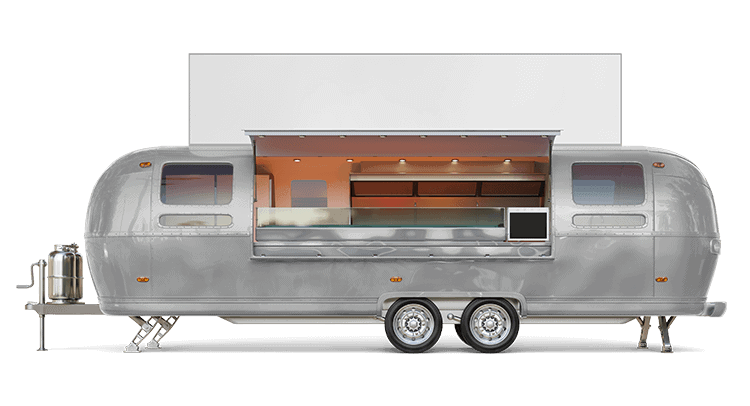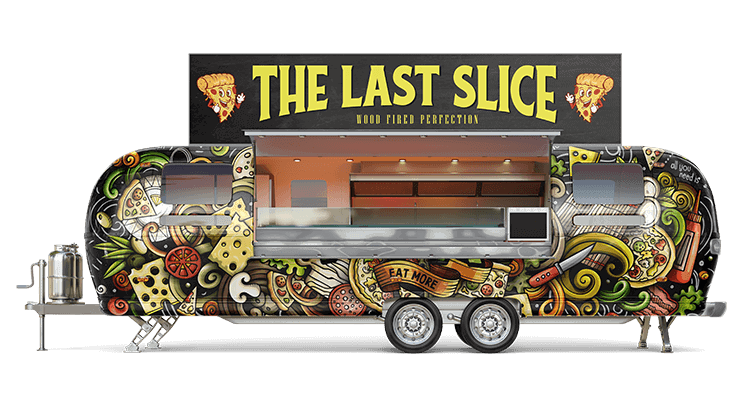 Drag the arrows to see a Before/After food truck wrap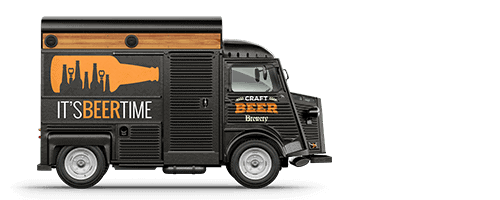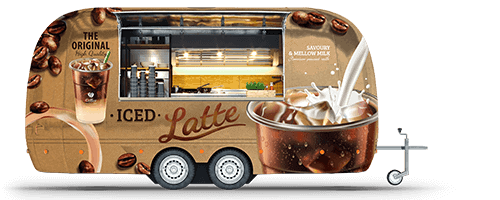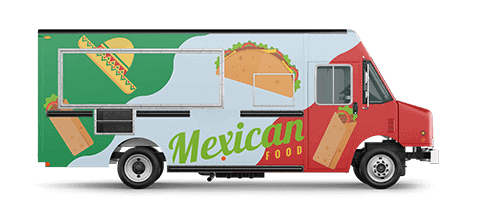 Food Truck Wraps:

Frequently Asked Questions
How much does it cost to have a Food Van or Trailer wrapped?
This depends on both the vehicle you have and the design you require. Flat-sided trailers and vehicles are significantly less expensive than traditional vans with curves and recesses. Full printed wraps will obviously cost more than simple signage.
The important thing to know is that we can offer a solution for every budget. We will work with you to deliver the best proposal that fits within both your budget and business requirements.
Do I need a Design for my Food Van or Trailer?
We can either work to a supplied design or we can work with you to create one. From simple logo and contact details on a single catering trailer to a full colour graphic overhaul of your professional fleet, our design specialists create wrapping solutions that will help you stand out, whatever your budget.
How long will a Food Truck Wrap last?
This depends on the material, the quality of the installation and the life of the vehicle. We use only tried and tested materials, selected based on your needs and installed by our highly trained technicians. With regular cleaning you can expect your wrap to look good for at least 8-10 years.
For short-term events and promotions, we can offer wrap films that are specially designed for temporary usage and quick and easy removal.
How hard is it to remove a Wrap from a Food Van?
Again this is dependent on both the material used and the quality of the installation. If done correctly, a wrap should be easy to remove for at least up to 5 years. We use only the highest quality materials on client vehicles to ensure that there are no nasty surprises when it's time for the wrap to be removed.
What Colours and Designs are available for Food Van Wraps?
We can offer literally hundreds of colours in a number of finishes such as satin, gloss, metallic, chrome and fluorescent. Mouth-watering product photography, stylish visual concepts, logos and menus can all be printed to high-resolution high standards using our industry-leading production facility.
We are proud to supply the finest quality materials for your wrapping needs. The quality and range of materials and printers we use ensure your finished wrap will be perfectly matched to your existing colour scheme, branding and imagery.
Instagram
Facebook
Linkedin
Twitter